The Stamford AVR SX460 Is Now Obsolete and Replaced by The AVR AS440
12-02-2023
Attention please!

The AVR SX460 is now obsolete and replaced by the AVR AS440. The production of original Stamford AVR SX460 is definitely discontinued. You probably can still find some stock units in the market, or you can choose the quality good China made repalcement ones.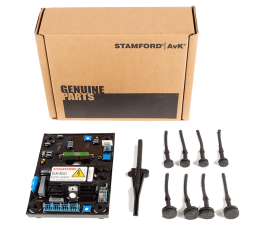 The AVR SX460 is a half-wave phase-controlled thyristor type Automatic Voltage Regulator (AVR) and forms part of the excitation system for a brush-less generator. It was previously used on Stamford UC22 and UC27 alternators. The AVR is linked with the main stator windings and the exciter field windings to provide closed loop control of the output voltage.
The AVR AS440 is an analogue, 2-phase sensing, self-excited automatic voltage regulator (AVR). It is supplied as standard to the STAMFORD S4 and STAMFORD HC5 alternators and is an option for the STAMFORD UC22 and UC27 alternators.